by Mike Hays
There is a 3.5 mile strip of Rockland County that encompasses seven points of interest within 3.5 miles. Visitors will find four parks, two art venues, a historic (and somewhat spooky) artillery tunnel, and a cemetery dating back to the War of Independence. You can explore Greenbush Road by bike or two feet, with parking at several sites along the way.
Greenbush Road was once a major north-south route for Indigenous peoples and in pre-colonial times before it was absorbed into the Kings Highway system that connected the villages of New York City. Today, it is hidden in a plain site, between Rt 303 and Rt 9W, more noisy and busy, to discover for all those who wish to take the road less traveled.
In 2019, Orangetown built a short bike / educational trail that runs along the edge of Blauvelt State Park, replacing a short but dangerous stretch that Greenbush Road and Route 303 share. It is now a safer bike path, but walkers and hikers should be careful on this narrow two-lane road.
The eight points of interest are marked with letters on the adjacent Google map.
A – Rockland Arts Center (RoCA)
27 S Greenbush Rd, West Nyack, NY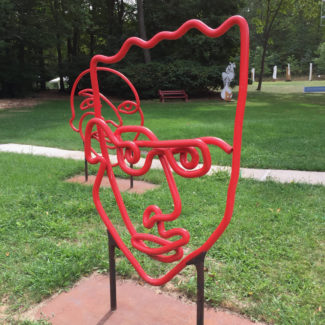 The Rockland Center for the Arts has been at this location since 1947 and offers art classes, camps, exhibits, and virtual programs. There is ample parking. A special feature is the Catherine Konner Sculpture Park, a mile-long trail through the woods showcasing an ever-changing mix of large sculptures. A red trail on the south side of the Sculpture Trail leads to a viewpoint at the base of Buttermilk Falls. Check the current exhibitions and opening hours of the RoCA museum. During the children's summer courses, the grounds are closed to visitors from 9 to 5 during the week.
B – Buttermilk Falls County Park
199 South Greenbush Road, West Nyack, NY
Go for a hike next to RoCA at Buttermilk Falls County Park. A blazing blue mile circular hike begins and ends in the parking lot. The north entrance has a steep climb along the falls, mostly dry, except when spring water is flowing and after heavy rains. At the top of the climb, two open areas offer lookouts overlooking the center of the palisades and point west towards the Ramapo Mountains. The return path on the southern part of the trail has a much smoother downward slope. Take a longer 2.1 mile hike, turning the lookouts onto an orange trail, then turning right onto a white path that reconnects to the blue trail. (Buttermilk Falls County Park Trail Map)
C – Blauvelt State Park
Route 303 North to East, Greenbush Rd, Blauvelt, NY
Part of the Palisades Interstate Park system, Blauvelt State Park has 590 acres of hiking and mountain biking trails. It's a serene undeveloped space with great views and multiple trails. However, there are no amenities. Hiking shoes and trekking poles are not a bad idea if you are planning to visit. There is a limited number of parking spaces on Greenbush Rd near the park entrance, located near the Rt 303 cycle / educational bypass. (Blauvelt State Park Trail Map)
D – Tweed tunnels
Tucked away inside Blauvelt State Park is the former Bluefields Rifle Range, a famous pre-WWI shooting range. A long graffiti-laden tunnel used by soldiers to cross the firing range is the subject of many local myths. Some say it is haunted. With a light once can walk all the dark interior. It's also a favorite haunt for area teens and giant crickets, recounted in YouTube videos and on the pages of The New Yorker.
Just east of Greenbush Road is Tackamack Park, located on Clausland Mountain Road. The park is named after a well-known Native American who lived during the time of the Dutch colonization of the area. In addition to its native name, it was known as Jan Claus, hence the name Clausland Mountains.
The long path passes through Tackamack Park and enters Blauvelt State Park, then ascends to lookouts on the Hudson River. The route passes the site of Balance Rock, once a large boulder balancing on bare rock which was a local attraction. The rock was blasted by the park around 1970. Pieces of the rock are found on a cliff above Tweed Boulevard. Parking is limited at Tackamac Park. (Tackamac Park trail map)
F – Clausland Cemetery
Head south on Greenbush Road, Clausland Cemetery appears on the right. On the left, a view of the south side of Clausland Mountain. It is possible to park on the shoulder and explore the Colonial Cemetery along Sparkill Creek. The cemetery contains the remains of 14 veterans of the War of Independence and eight veterans of the War of 1812.
G – Bell-Ans Creative Arts Center
103 S Greenbush Rd, Orangeburg, New York
Just south of Clausland Cemetery, Greenbush Road turns into an unpaved ash street as it passes Mountain View Ave. The large three-story wooden building on the left houses the Bell-Ans Creative Arts Center. Its name comes from the former pharmaceutical factory, founded by John Lanphere Dodge in 1897, which manufactured digestive aids. Dodge built a large racetrack nearby which was also the site of the Orangeburg County Fair for many years. In 2015, Bel-Ans went from "From indigestion to inspiration" and now offers a studio and an exhibition space for local artists.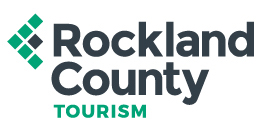 Roaming through Rockland covers outdoor destinations for walking, biking or hiking in Rockland County.
Sponsored by Rockland County Tourism.